Eff YOU ENN: CRAnK Mob March 08 Recap (part 1 of 2)
By Alex Thompson
March CRANK Mob was attacked by four wheeled beasts! We subdued them and made them our pets. The largest beast, The Box, is Richie's experiment in RVing. The Box accompanied CRANK Mob to each stop and provided another sound system as well as base for many riders. Richie, Marcus, Franz and others spray painted FUN slogans and faces on the Box, to get it the RV into the C Mob spirit.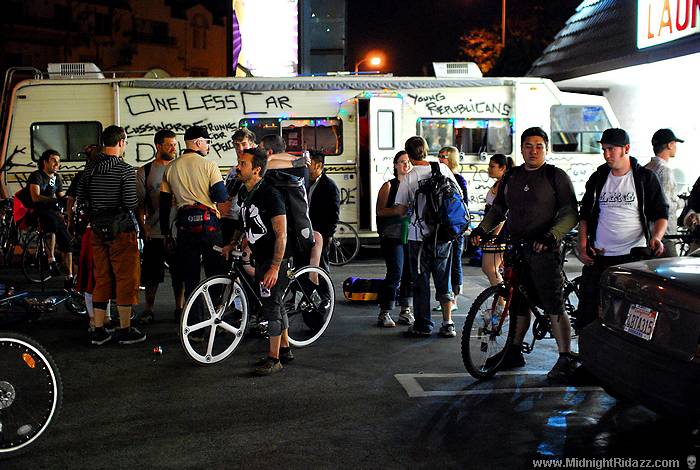 The smaller beast and the Box's spiritual cousin, the CRANK Mobile, moved from the Valley to West LA just to join CRANK Mob. CRANK Mobile is a fun loving Bike Car, a four wheeled behemoth of steel which is propelled by four swarthy young bikers pedaling with all they've got.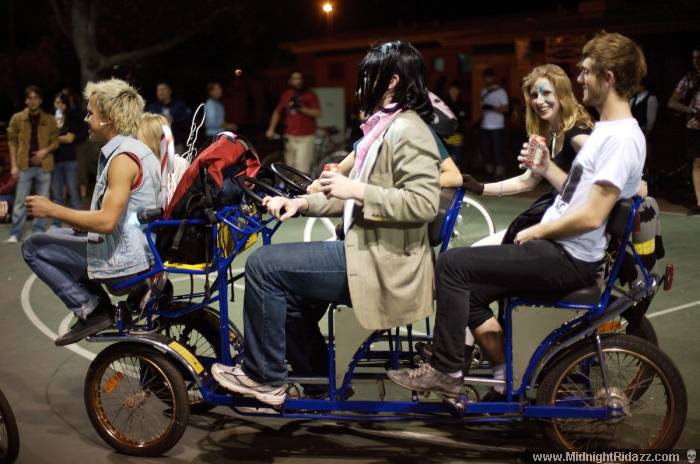 EFF
With two four wheelers present CRANK Mob was equipped to do anything, and we sure tried to do everything. EPIC FUN FAIL! Kieron led us out an up Sawtelle, and we quickly looped West and South to head to our first stop at the CRANK Mob 7-11 on Gateway and Barrington.
That 7-11 has seen some amazing bike crazy, and we strove to exceed past hedonism. Jump roping was full effect TIMES TWO with two jump ropes going while people danced by the Box. Meanwhile Ridazz took turns taking the CRANK Mobile for a spin. At one point, when I got tangled up in the 2nd jump rope I looked North and realized that a crowd had gathered around some BMX riders. They were giving an amazing flatland demonstration, but there was so much going on that only half the ride was watching.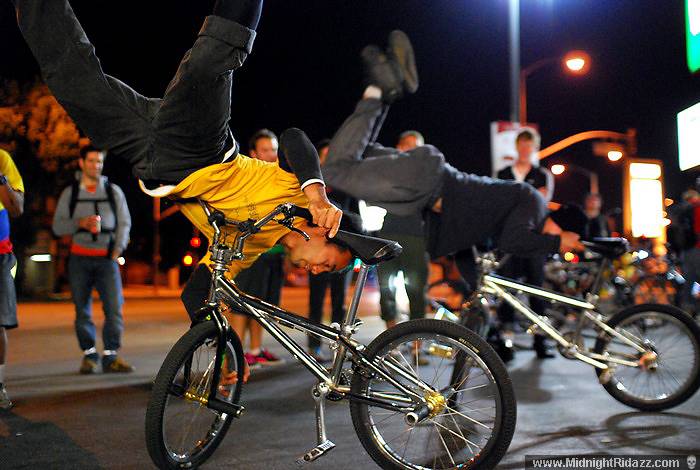 Eventually we headed South to Mar Vista park. At the park fixed riders practiced their skills on the B Ball courts, but were occasionally charged by the CRANK Mobile. The CRnAK Mobile was in full effect with four strong pedalers and sometimes as many as 4 non pedalers hanging onto it. That's 1700 pounds of pedaled CRANK Mob. This isn't your mom's CM anymore.
YOU
We left South along McLaughlin and then Sepulveda. CRANK Mob hit a snag when the ride unexpectedly pulled into a McDonalds. There a rider became very sick from drinking too much, and had to be taken to the hospital. That was a serious bummer. Everyone: try to be more cognizant of your limits so that we can minimize these kinds of scary incidents! At a 300 person party there's always going to be a few problems, but let's look out for one another and minimize those problems.
Eventually we got started again, and since I had been riding in the CRANK Mobile, and they left me, I got to run with the ride about 2 miles to Fox Hills mall. Alright, I used to run competitively, but come on, I'm not in shape anymore. Don't leave me guys!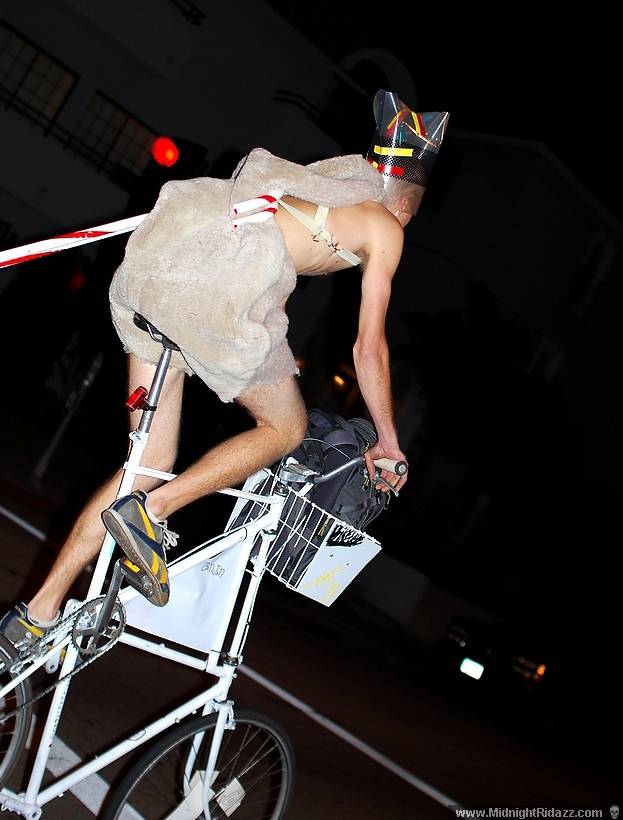 Fox Hills Mall was great as a dark stop. With two separate sound systems people had CHOICE about what music to dance to. Some people climbed on top of the Box, until Richie let us know that was not a good idea. Sorry Richie.
ENN
We rolled from Fox Hills when that ominous portent, the security guard on a phone, showed. This is when the CraNK Mobile's caretakers discovered how well the Bike Valley had treated the CRANK Mobile. A pedal came right out, and Matthew Moore had to jump out and chase it down. The CRANK Mobie fell behind, but it's new friend the Box drove alongside to keep us company.
We stopped a couple more times. At one stop, while people were in the liquor store, people outside were lighting fireworks. That's when LAPD rolled up. They flashed their sirens, and everyone dropped in to a crouch to get ready to flee.
Then they drove away. LAPD knows where it's at. They're out to keep the peace and make sure everything is safe. SMPD seems like the country sheriff from bad movies – always out to hassle those punk kids. LAPD takes their job seriously though, and consequently they don't make a big deal of over kids having fun safely, even if they might be skirting the law.
The sidewalk chalk came out and we continued dancing and playing. Marcus and I jumped the fireworks a few times, a move I learned from Marcus at the July 4th ride last year:
Spells FUN
After that stop the ride zoomed down to Washington Blvd and then right past the CostCo where we were supposed to stop. I guess after so many SMCM's there's just an instinct to head for the Venice Pier at the end of a long ride. Eventually the ride swung back and we all collected at the CRANK finish in the CostCo parking lot.
Franz Ellers had all his photography gear and started setting up his gear. People rode around in the Bike Car and the flatlanders broke it down. People danced by the Box, and there was keg beer flowing from somewhere (I can't recall.) People also pushed one another around on the mobile platforms that allow people to carry their flatscreens from CostCo to their SUV.
Franz Ellers took professional quality portraits of the CRAKN moB notables and new faces. It's awesome to have an underground party ride without the glitz or funding of top quality Hollywood Clubs, and then still end up with professionally done photographs afterward. I hope that once Franz has processed his photographs he can post some of them here at Westside BikeSIDE.
We hung out at CostCo till about 3:45am. Then most of the remaining 30 or so riders headed to Cinco de Mayo for some breakfast. My brother and I elected to go straight home with the CRANk Mobile so that he could make his flight home at 6am. Unfortunately, we discovered that a chain had broken on the C Mobile, and so only one person could pedal. The ordeal that followed is a separate story, which might be called "A Cautionary Tale of Brotherhood in West LA."
On the way to Cinco de Mayo the Box was pulled over and Richie was ticketed by the often heavy handed Culver City PD. For seemingly no reason the CCPD searched the vehicle and it's occupants. Still, I hear that everyone had a good time at Cinco de Mayo. I'll throw down on Richie's ticket. Congrats Richie, you've got your stripes!
(Check out pt 2 of the CRANK Mob recap, tomorrow, with video, gushing rida testimonials, and mad photos! Thanks to Marcus for EFF YOU ENN inspiration.)