Yesterday approximately 6o cyclists protested police harassment (photos on Flickr & Ridazz) of Santa Monica Critical Mass.  In response to the 14 citations of Santa Monica Critical Mass (SMCM) riders last Friday we, the Crimanimalz, blocked 4 crosswalks for a cumulative period of 40 minutes.  By walking back and forth across crosswalks continuously the Crimanimalz were able to legally create massive traffic jams.  We effectively showed that legal behavior can be outrageously disruptive.  Further, we showed that should the Santa Monica Police Department (SMPD) continue targeting cyclists on Critical Mass, there will be consequences for traffic in Santa Monica on other days.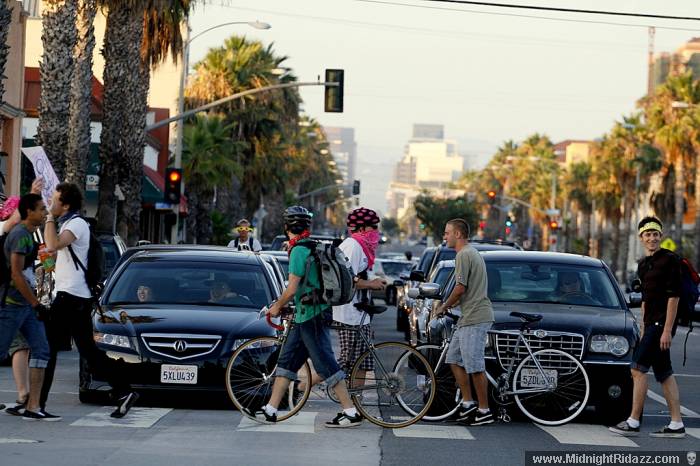 About 50 cyclists met at Sawtelle and La Grange, the C.R.A.N.K. MOB meet up, and rode into Santa Monica.  We rode back streets to arrive at 10th and Wilshire, effectively avoiding any unwanted police attention.  We then set down our bikes, and began crossing the crosswalk at the intersection continuously, en masse.  Because there were no gaps in the crossing pedestrians cars could not pass.  Traffic built up rapidly so that it was jammed for 3 blocks in each direction.
Within a few seconds motorists began honking and yelling.  It's an phenomenon familiar to any cyclist – even a few seconds of perceived delay makes Los Angelest drivers IRATE.  However, SMCM riders are no ordinary pedestrians, and horn honking was greeted by taunting screams and hoots from the crowd of cyclists.  Soon motorists were leaning out the windows yelling that they would call the police.  We yelled back "call the police", because we were glad that they would register their complaints with police.  We felt that for the protest to be effective, city officials should know who was causing the disruption, and how much ire it was generating.
After five minutes one well dressed motorist got out of his car and said he was taking his pregnant wife to the hospital, and demanded we let him through.  We all agreed, but as the man walked back to his luxury sedan, one participant noticed that there was no one else in his luxury sedan.  Sorry dude, but being rich doesn't mean we'll tolerate self serving lies.  The Crimanimalz let him wait.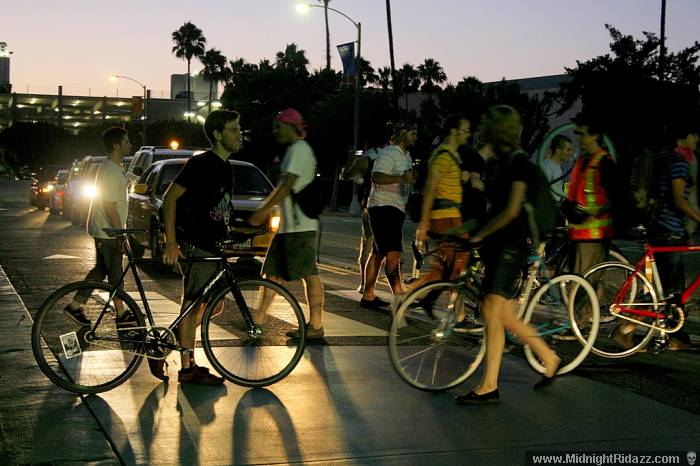 (photo by Richie Thomassen)
Eventually the police showed up, perhaps 15 minutes later.  We stopped walking the crosswalks, and moved everyone to the south side of the street.  We then split up into five groups, to make it more difficult for the two police cruisers and single motorcycle cop to follow us.  Eventually these groups rendevoused, and we blocked three more crosswalks with the remainder of the night.
It occasionally got ugly.  One motorist got out of his car, to argue with the Crimanimalz, and ended up in a 7 to 1 shouting match.  All night there were spates of ugliness, shouting matches that likely would have come to blows had the group of cyclists had a numerical advantage.  It wasn't just motorists doing the yelling – at times there was a healthy dose of angry shouting from cyclists.
(Photo by Richie Thomassen)
What do you expect?  Santa Monica residents have sicked their police force on cyclists like an angry guard dog.  The city has assigned 14 officers, on an overtime basis, to follow the ride each month, for 14 months.  The SMPD made no effort to contact riders at anytime before or during their 14 month campaign to eliminate the ride.  Officers stand apart at the ride, refuse to talk to riders and train spotlights and video cameras on their faces.
Worse, Santa Monica officials have acted in bad faith toward cyclists.  When SMCM participants met with police, they got lectures on law and order, rather than a genuine discussion of other options.  Sgt Larry Horn, in two seperate meetings, suggested that the hundreds strong ride "take a nice ride on the beach bike path."  The same bike path where SMPD refuses to enforce the "bikes only" inscriptions that occur every 500 feet.
When the City Manager asked Chief of Police Tim Jackman to meet with SMCM riders in September, Jackman scheduled a meeting.  When activists arrived, he stepped in for 30 seconds, introduced himself, and returned to his office – skipping the meeting.  Activists instead met with Captain Mark Smiley, and suggested that SMCM riders might be receptive to a police escort, as is done on San Francisco Critical Mass.  Smiley replied that "I couldn't do something like that without authorization from the City Manager or the Chief (of Police.)"  Oh, you mean the Chief of Police who is skipping the meeting?  That guy?
Even Santa Monica City Council has gotten in on the "let's diss the cyclists" game.  When 50 cyclists attended a council meeting in November in support of SMCM, council members promised to investigate means of accomodation for the ride.  The result?  Council never approached one activist – not one – about the issue, and they produced nothing.
SMPD traffic officers clearly took the cue from their superiors.  For example, while issuing over 30 tickets for "no light" violations, officers repeatedly checked the box "this is not a correctable violation."  However, every "no light" violation for a cyclist is a correctable violation in California, as the California Highway Patrol has pointed out numerous times to riders who go to pay these violation.  Once a rider demonstrates that they have a corrected the violation by equipping a light, the fine drops from over $100 to just $10.  By misleading cited cyclists SMPD has improved their revenue stream and cost riders thousands of dollars more than is legally justified.
Santa Monica's leadership has treated SMCM riders exactly as one would expect a gated community might – a problem to be dealt with.  In doing so they correctly assumed that we are a group with little ability to hurt them politically.  However, what they ignored is that it is not law enforcement which maintains law and order in a city.  It is not law enforcement which helps shovel obscene numbers of motorists in and out of Santa Monica on Friday night.
It's the citizens.  When all citizens choose to work together people may go about their activities as smoothly as congestion will allow.  It is the cooperative efforts of citizens that reduce massive traffic snarls.  However, it is only with the collaboration of citizens that law enforcement is able to acheive their goals.  When Santa Monica city officials decided that SMCM was a bug to be smashed without consideration they effectively said to it's participants "your concerns, your role, they are insignificant."  They ignored the fact that SMCM is only as disruptive as any other mass of traffic, or even less so.
This is Santa Monica's reminder.  If we are to be painted as disruptive, then we shall act so.  If we are to be treated as insignificant, then we will show that we are not.  Actions like this will continue to occur, at unpredictable times, using unpredictable means, until the Santa Monica Police Department quits ticketing Santa Monica Critical Mass.